Yoga Mart USA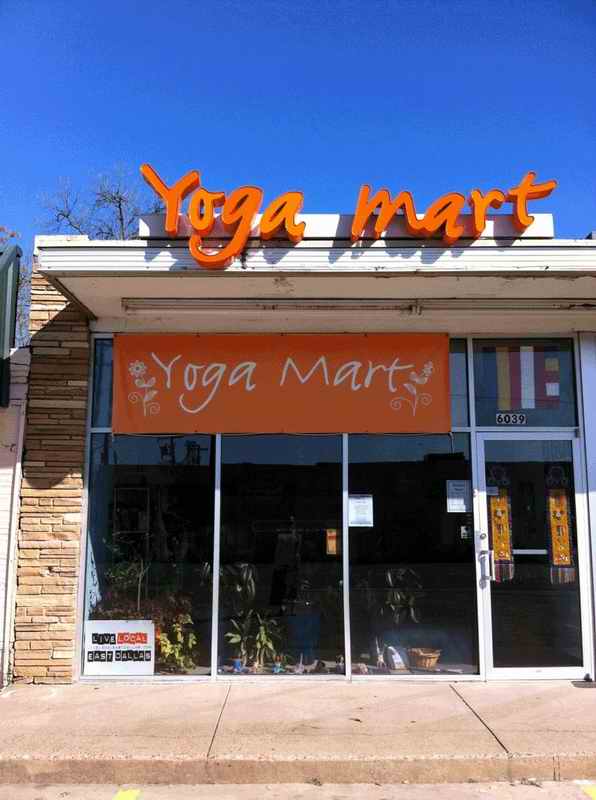 Yoga Mart USA in Dallas Texas,  provides Iyengar Yoga certified classes, in a great studio as well as Yoga Props, Accessories, Supplies and Apparel

Yoga Mart USA owner and teacher, Marj Rash, utilized her 24-year background in clothing design and manufacturing to begin creating a range of yoga props for herself and other Dallas Yoga practitioners in 1996. 
Her business grew into a wholesale business serving yoga studios in Texas, Michigan and Kansas. The website, YogaMartUSA.com, went live in 2002.  The products sold solidly nationwide in addition to orders received from Canada, Europe and even Antarctica! 
The freestanding retail store at 6039 Oram Street in Dallas opened in June 2009 offering everything for the Yoga and Pilates practitioner - stop in and browse our Store!

Special Sale - Purchase $125 of products
Receive a FREE Green or Burgundy Peace T Shirt with Your Order
Please Specify Color & Size in Comments Section of Order!

Bolsters, eye bags, straps, carriers, wooden props, chairs and clothing are all lovingly and locally made in Dallas, Texas.  Yoga Mart is the only retailer for Second Nature Pillow Co. All Second Nature produts are also made in Dallas and they include, Zafu, mediation cubes, buckwheat sleeping pillows and more.  Clothing for both men and woman are available in a wide variety of sizes and styles.
YogaMartUSA has become a resource for many hard-to-find books published in India.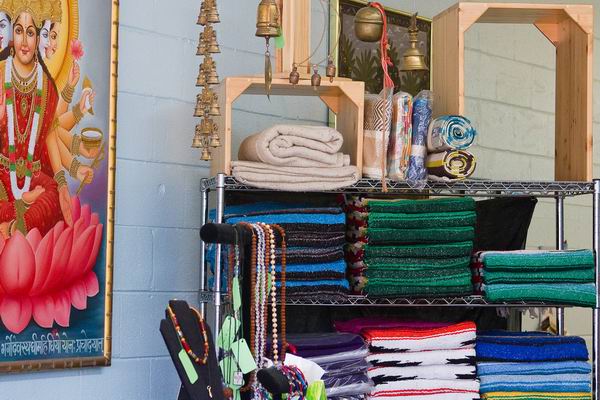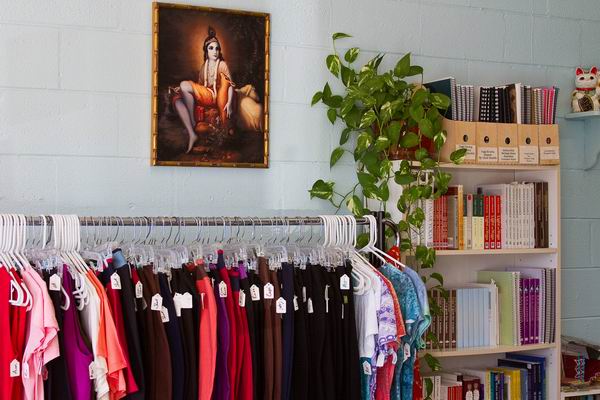 Sampling of various books, blankets, tee shirts, etc. available at the Yoga Mart USA Store

---
Marj is shown in a Restorative Pose, utilizing various Accessories & Props that she either designs and manufactures or supplies through her Shopping Cart.
As our name implies, we are a quality designer and producer of Yoga accessories. However, Marj Rash dedicates many hours teaching Iyengar Yoga throughout the Dallas area. Many students love her style of working with them to achieve a greater Yoga experience so Marj travels to several different locations to help students enjoy her years of teaching experience.
In honor of the teaching of Yogacharya BKS Iyengar, 10% of profit on sales through this website will be donated to the Bellur Project.
Yoga Mart USA in Dallas Texas,  provides certified Iyengar classes as well as Yoga Props, Accessories, Supplies and Apparel
For information about our classes and locations, please take a look at our Classes page.
Yoga Mart
6039 Oram Street
(west of Skillman Street, behind Redenta's Garden)
Dallas, TX  75206
(214) 534-4469 
We have a great Dallas Area Map on our Classes Page
Come by and browse the selection.

---
Don't forget to Foursquare yourself when here!