Classes
*** SPECIAL CLASSES ***

Dean Lerner Workshop Feb 3-5, 2017 
at White Rock YMCA
Dean Lerner is known for his ability to share the art of yoga with clarity and precision blended with warmth and humor.  Dean has studied with BKS Iyengar for several decades and is well versed in therapeutic issues. These classes will be suitable for Iyengar yoga practitioners of any level; however, six months of prior Iyengar yoga practice will be helpful.
Friday February 3 ~ 7-9 PM  ~ $45
Saturday February 4  ~ 12-3 PM ~ $55
Saturday 4-6 PM  ~ Pranayama and Asana  ~$45
Sunday February 5 ~ 9-12 PM $55
Save by signing up for All 4 classes ~ $180.00
Registration is thru MindBody
or
Mail Checks to:
Yoga Mart, PO Box 720204, Dallas, TX 75372
********

Classes Location
YMCA at White Rock Lake ~ 7112 Gaston Ave ~ Dallas, TX 75214

Lite Blue Arrow on Map Below - (Near White Rock Lake)
You do not need to be a member of the Y to attend this workshop, preregistration assures your name on the admission list at the front desk.  The YMCA has all props available.  There is little room for personal items in the yoga room.  Please bring your own lock if you would like to use a locker in the locker room.

Yoga Classes are held in our studio ~ New Location ~ 2201 Tucker St, Suite 101, Dallas ~ as well as various other locations throughout East Dallas. Marj Rash, owner of Yoga Mart USA, is an Intermediate Junior II Certified Iyengar Yoga Instructor.
Look at the Map at the bottom of this page to determine which location is best for you. Click the Blue Link just below the Map for a full screen view of the locations.
Private session (1or 2 people) $100 at Yoga Mart
$115 at your place within 5 mile radius of Yoga Mart
Further distances by quote
---
Typical Week of Yoga Mart Classes & Studio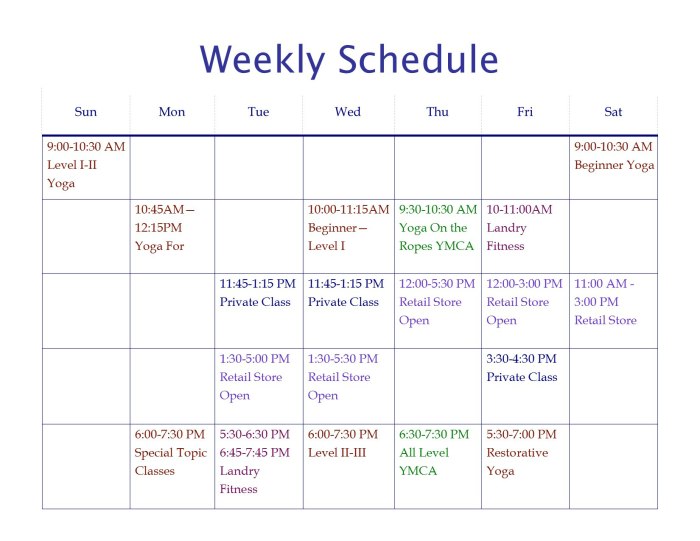 ---
Sign up for Classes, Start a Profile or Pay for Classes with Your iPhone, Android or Laptop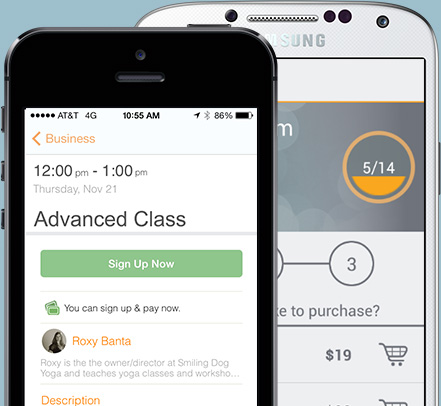 With our easy App

---
Reoccurring Private class 6-8 people $380/month of 4 classes 
Drop-in 1.5 hour class $15
Drop-in 2 hour class $20
4-1.5 hour class series $58 
10-1.5 hour class series $115 
Series classes expire 3 months from date of purchase
Beginner and Level I series prices are listed below with the dates
Need a party idea?  How about a yoga Bachelorette party? Birthday party?
Parties quoted per event.
Beginner Series- for those people with little or no yoga experience and those returning to yoga practice after an absence.  The series begins at the beginning and methodically builds through a series of poses to give a foundation of poses that one will be able to build on for years.  Emphasis on standing poses, forward bends and shoulder stand.
Level 1- Building on the poses learned in the beginner series with the addition of simple back bends, revolved standing poses, shoulder stand variations, headstand and twists.  Use of wall ropes in most classes at Yoga Mart.
Level 2- Refining the poses from Level I with the addition of headstand variations, intermediate back bends, Padmasana and hand balances. Use of wall ropes in most classes at Yoga Mart.
Level 3- Refining the poses from Level II with the addition of headstand twist variations, challenging shoulder stand variations, and Padmasana variations. Use of wall ropes in most classes at Yoga Mart.
In case of inclement weather, when DISD cancels classes, Yoga Mart also cancels classes.
Classes held at Landry Fitness and YMCA are cancelled at the health club's discretion. 
 Yoga Mart uses Mind Body Software 
for class sign up.

To start a profile, pay for classes, sign up for classes go to:

https://clients.mindbodyonline.com/classic/home?studioid=204555

For Smart phone owners download the free "Mind Body Connect" app. and all may be done on the phone

You may get started on the laptop and tap into your account via "Mind Body Connect" app

---
Here is a great article
The No. 1 Myth About Yoga (And How Learning The Truth Can Change Your Life)
posted in the Huffington Post on May 15, 2014, by Taylor Wells,
founder and owner of Prana Power Yoga™ (with five studios in Massachusetts and New York), author of Create the Best Life Ever and a United Nations Yoga Peace Ambassador
---
Series Classes
Series classes are suspended for the summer.  Drop-in classes are available several times a week.

The Beginner series is for those folks who are new to yoga practice or returning after an absence.  The classes will introduce standing poses, forward bends, twists and Sarvangasana (Shoulder Stand).
The Level I series is for the yoga practioners with a minimum of 6 months Iyengar Yoga experience.  The class will refine the poses from the beginner series and continue into Sirsasana (head stand) and back bending postures.
There are many advantages of participating in a series of classes.  Each class builds on the previous class.  The greatest benefit comes from attending each class.

Classes are limited to 10 students. Pre-registration is required.
To sign up go to:
https://clients.mindbodyonline.com/classic/home?studioid=204555

On Smart phones download the free "Mind Body Connect" app.

  ***  Special Topic Classes ***
These classes are peppered throughout the month.  Check on MindBody site to see the dates and sign up.
Please enroll in advance.  It really helps to plan the class if it is known in advance who is going to attend.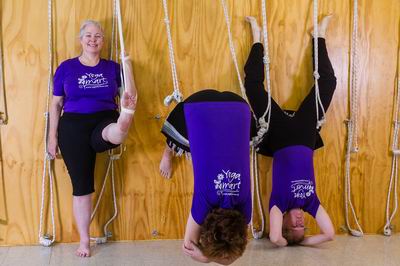 ---
Please direct any questions you may have to:

YogaMartUSA@gmail.com
---
Don't forget to Foursquare yourself when here!

---
Store Hours

Monday Closed ~ Tuesday 1:30pm-5:00pm ~ Wednesday 1:30-5:30pm ~ Thursday 12:00-5:30pm ~ Friday 12:00-3:00pm ~ Saturday 11:00am-3:00pm ~ Sunday closed

---
Yoga Mart USA
› Classes