Classes
---
Open Practice
Many classes are cancelled around Holidays so Yoga Mart will be open for self guided practice. There will be a couple of series available that may be used as a guideline or do what every you would like. The all of the props will be available, there will be on instruction.
Friday November 29 12:30-3:00 PM
Saturday November 30 12:30-2:30 PM
---
Announcing  New Classes at Yoga Mart!
Adaptive Yoga - A Place for Everyone
Thursday 6:45-8:15 PM
11/7 - Standing Poses
11/14 - Forward Bends
11/22 Twists & Backbends
11/28 - no class, Happy Thanksgiving!
This class is adapted for anyone who feels, for any reason, that a traditional yoga class is not for them, This class is well suited for people with injuries and disabilities. Learn the art and practice of asana (poses) and Pranayama (breathing techniques) using modifications and props to improve awareness, alignment and understanding.
Instructor Information:
Jerry Hoff has been practicing and studying Iyengar Yoga for over 25 years. With the guidance of Senior Iyengar instructors from around the world, Jerry has adapted his practice to accommodate his physical limitations and how to guide others.
First Sunday Guided Meditation
The first Sunday of each month
Sunday December 1  10:45 - 11:45 AM
Just as the stillness of an asana belies the underlying efforts of the legs, arms, and core; meditation is stillness while the mind is in a state of focused concentration. Concentration is the root skill for all types of meditation. Lose concentration and the monkey takes over. Back and forth you go, from concentration to monkey noise and back again. Meditation is what happens when you let the monkey go and return to concentration. 
Join Lynne Patterson on Sunday August 4 for Yoga Mart's First Sunday Meditation. We will sit comfortably (think restorative!) We will take some time to get settled and comfortable, then begin with a guided meditation to help us center and focus. Then silence. Spend some time deep inside. Create a new practice or deepen your existing one. Need more information? Text your questions to Lynne at 972-890-1031. Beginers always welcomed. No previous training needed! 
Instructor Information:
Lynne Patterson has been meditating for about 10 years. Two years ago, her favorite meditation teacher was relocating and Lynne did not want the class to change, so she offered to take it over. The class continued and Lynne became a little braver and took meditation teacher's training at Ananda Meditation Center in Dallas. Now Lynne teaches meditation wherever she can find a place to sit. He long-term goal is to fill the Cotton Bowl with Mediators just before the State Fair. Can you imagine the energy we could bring to the Fair?
George Purvis is teaching at Yoga Mart
Tuesday 6:00-7:30 PM
Level I-II
4 class series each month $60
November 5, 12, 19, 26
4 classes $60
December 2, 9, 16
3 classes $45
Single drop-in class $18
Each class builds on the week before, much like a workshop.
Iyengar Yoga Forrest Gump Style
Each class is like a box of chocolates,
you never know which pose will be taught.
George Purvis has studied with BKS Iyengar in India, and is the first certified Iyengar Yoga Instructor in Texas (1984). He has conducted classes and workshops throughout North America.
His teaching style is relaxed, down to earth and accessible. His gentle manner and sense of humor encourage students of all ages and abilities to achieve their best in a spirit of mutual support, and to enjoy the journey as much as the result.
---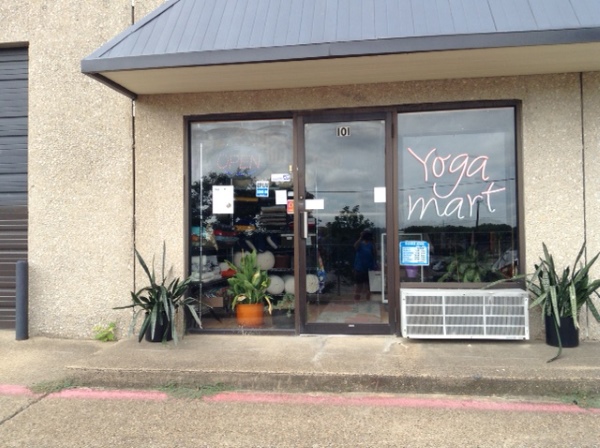 Store Front - Yoga Mart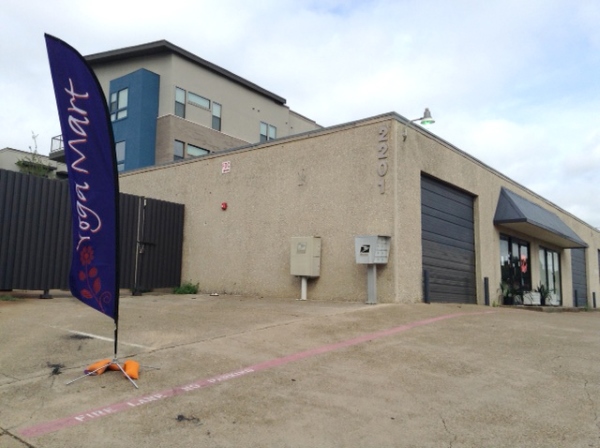 Street View - Yoga Mart - Apt Bldg behind it
2201 Tucker St, Suite 101
Dallas, TX 75214
 Marj Rash, owner of Yoga Mart USA, is an Intermediate Junior II Certified Iyengar Yoga Instructor
Private session (1or 2 people) $100 at Yoga Mart
$115 at your place within 5 mile radius of Yoga Mart
Further distances
or larger groups by quote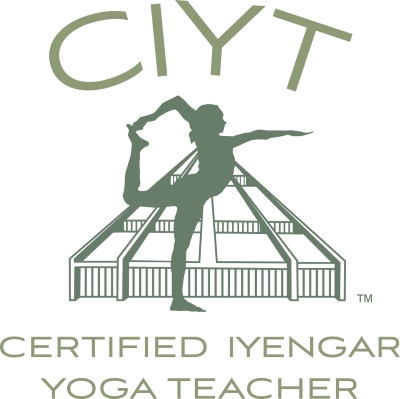 ---
New Studio!

---
---
Workshops
Dean Lerner Returns April 17-19, 2020
Save the date!
Sign up will begin January 2020


We all had a great time with Dean Lerner during his workshops in Dallas Feb 2017 & 2018.


Another wonderful workshop with HS Arun! He will be back in 2021.



---
Prenatal Yoga
Bebe & Me Yoga (pregnant mamas welcome)
Friday 10 am - 11:15 am : Taught by Cheryl Johnson
November 1, 8, 15, 22
no class November 29, Happy Thanksgiving
Nurture your baby while caring for yourself. This class invites babies and their caregivers (moms, dads, grandparents, nannies) to bond with bebes and get a practice in for yourselves. The class is a nurturing and strengthening practice designed specifically for your postnatal body and spirit.
The class offers a chance for moms to connect with other new moms, too. You'll find a warm, supportive community — essential during the postpartum period!Who it's for: Mamas who are feeling fine at 6 weeks postpartum. Mamas who had a Cesarean-section should wait a little longer—8 to 10 weeks; check with your doctor or midwife. Bebes can begin any time, and tend to enjoy the class until they are crawling. We can address age - depending on your child.Other info: You are welcome to feed baby (by breast or bottle) any time during class in the studio, and to change baby's diaper any time, too. In fact, this class helps baby work up an appetite, make impressive diapers, and sleep, sleep, sleep! Please bring a blanket for baby to lie atop.
---
---
 Yoga Mart uses Mind Body Software for class sign up.
With our easy App

---
Basic Class Schedule
Sunday 9:00-10:30 AM Level I-II
Monday 10:30-12 Noon Yoga for Women over 50 
Tuesday 6:00 - 7:30 PM Level I-II 
Wednesday 10:00-11:30 AM Beginner/Level I
Wednesday 6:00-7:30 PM Advanced Yoga
Thursday 6:45-8:15 PM Adaptive Yoga
Friday 10:00-11:15 AM Bebe & Me
Friday 5:30-7:00 PM Restorative Yoga 
Saturday 9:00-10:30 AM Fundamentals in Depth
For additional information and special topic classes scroll down

---
Class Charges - Individuals

(Re-occurring Private class 6-8 people $420/month of 4 classes )

1.5 Hour Classes
single $18
2 - $34
3 - $50
4 - $66
5 - $81
6 - $97
7 - $110
8 - $122
9- $125
10-1.5 hour class series $135 

2 Hour Class
Special Topic and Workshop
single $25
Series classes expire 3 months from date of purchase
Need a party idea?  How about a yoga Bachelorette party? 
Spa Day? Birthday party?
Parties quoted per event.
Descriptions of Ongoing Classes
Beginner Series- for those people with little or no yoga experience and those returning to yoga practice after an absence.  The series begins at the beginning and methodically builds through a series of poses to give a foundation of poses that one will be able to build on for years.  Emphasis on standing poses, forward bends and shoulder stand.
Beginner/Level I - Wednesday 10:00 - 11:30 AM
November 6 - Standing Poses
November 13 - Standing Forward Bends
November 20 - Supported Back Bends
November 27 - Chest Opening on the Ropes & Pranayama
Fundamentals In Depth Saturday 9:00 - 10:30 AM
The 60 basic poses taught in a more in-depth fashion. A perfect class for those that are interested in learning the movement of the joints and muscles and how the the basic poses effect the nervous system.
November 2 - Standing Poses
November 9 - Forward Bends
November 16 - Back Bends with Support
November 23 - Twists for Happy Digestion
November 30 - Digestive Assistance and Pranayama
Level 1-2 - Building on the poses learned in the beginner series with the addition of simple back bends, revolved standing poses, shoulder stand variations, headstand and twists.  
Wall ropes used in most classes at Yoga Mart.
Sunday 9:00 - 10:30 AM
November 3 - Footing
November 10 - Spiraling
November 17 - Backing
November 24 - Retention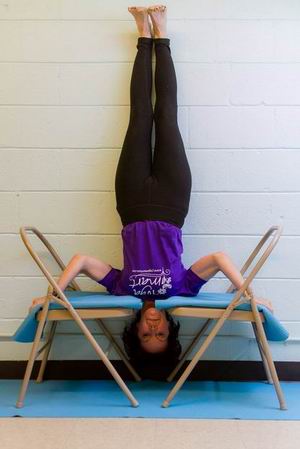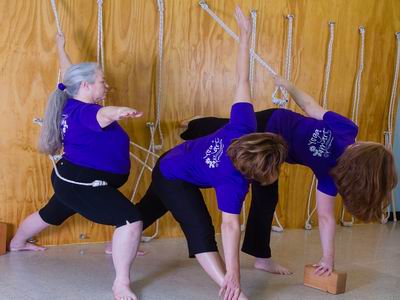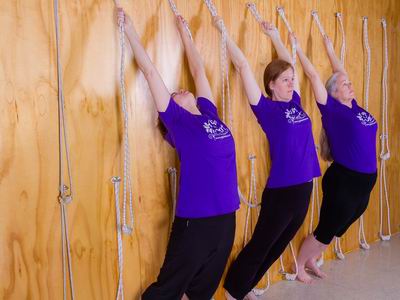 Level 2- Refining the poses from Level I with the addition of headstand variations, intermediate back bends, Padmasana and hand balances. Wall ropes used in most classes at Yoga Mart.
Tuesday 6:00- 7:30 PM
George Purvis' class
George will be doing a specific series of poses each month. Each class will build on the class before, much like a workshop. Although attending a single class is OK, attending all 4 classes will give the best understand of the course work.
November 5, 12, 19, 26
All 4 classes $60
Single drop-in class $18
Iyengar Yoga Forrest Gump Style:
Each class is like a box of chocolates, you never know which pose will be taught.
Level 3/Advanced- Refining the poses from Level II with the addition of headstand twist variations, challenging shoulder stand variations, and Padmasana variations. Wall ropes are used in most classes at Yoga Mart.
Wednesday 6:00 - 7:30 PM
November 6 - No class
November 13 - Standing Forward Bends
November 20 - Back Bending
November 27 - no class - Happy Thanksgiving!
---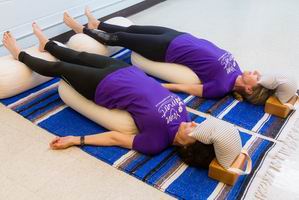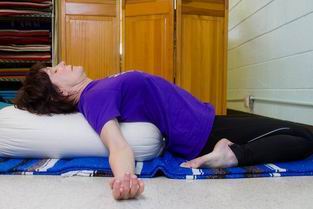 Restorative Yoga - This is a slower paced class utilizing props to support the body and create deep transformation. Each class will have a theme however everyone will get a great restorative experience.
Common themes are: Headache Relief; Aw, My Aching Back!; Insomnia Relief; Pain in the Neck and Shoulders; High Blood Pressure and Yoga to the Bone
Friday 5:30 - 7:00 PM
November 1 - Pranayama
November 8 - Insomnia Relief
November 15 - Emotional Stability
November 22 - Stress Relief
November 29 - no class - Happy Thanksgiving!
---
Women over 50 - This is a beginner friendly class, we start out active and transition to Restorative for the second half of class. All levels of practitioner is welcome. Props are used for those with mobility challenges.
Monday 10:30 AM - 12 noon
November 4 - Standing & Bending
November 11 - Seated Forward Bends
November 18 - Chest Opening and Happy Digestion
November 25 - Pranayama
In case of inclement weather, when DISD cancels classes, Yoga Mart also cancels classes.
Classes held at Landry Fitness and YMCA are cancelled at the health club's discretion. 
 Yoga Mart uses Mind Body Software 
for class sign up.

To start a profile, pay for classes, sign up for classes go to:

https://clients.mindbodyonline.com/classic/home?studioid=204555

For Smart phone owners download the free "Mind Body Connect" app. and all may be done on the phone

You may get started on the laptop and tap into your account via "Mind Body Connect" app

---
Here is a great article
The No. 1 Myth About Yoga (And How Learning The Truth Can Change Your Life)
posted in the Huffington Post on May 15, 2014, by Taylor Wells,
founder and owner of Prana Power Yoga™ (with five studios in Massachusetts and New York), author of Create the Best Life Ever and a United Nations Yoga Peace Ambassador
---
  ***  Special Topic Classes ***
Check on MindBody site to see the dates and sign up.
Please enroll in advance.  It really helps to plan the class if it is known in advance who is going to attend.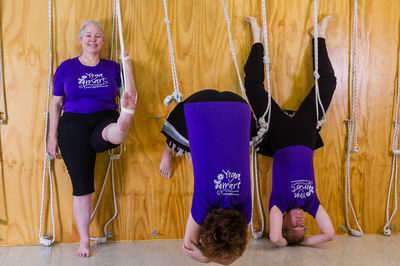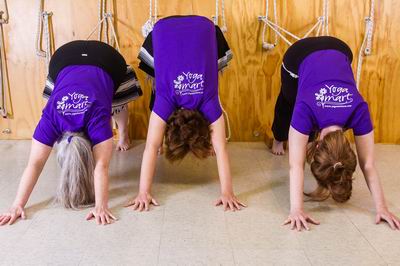 ---
Please direct any questions you may have to:
YogaMartUSA@gmail.com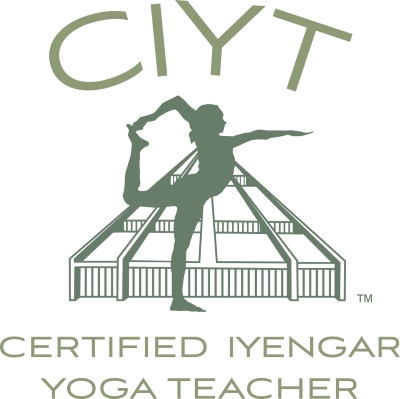 ---
Don't forget to Foursquare yourself when here!

---
Store Hours

Tuesday 1:30 pm - 5:00 pm ~ Wednesday 1:30 pm - 5:30 pm ~ Thursday 12:00 pm - 5:30 pm ~

Friday 12:00 pm - 3:00 pm ~ Saturday 11:00 am - 3:00 pm

Sunday & Monday Closed
---
Yoga Mart USA
› Classes