Our Store
Our Retail Store is located in Dallas, Texas ~ New Location ~
2201 Tucker St, Suite 101 Dallas, TX 75214
This is where we design and manufacture many of our products.
There are many more items available in the store, such as clothing, malas, alter bells, Zafus and buckwheat pillows, that are not on the website. 
Stop by a browse, you never know what you might find.

We provide many products from various vendors that we have researched very carefully.
It is also our Yoga Studio for group and private Iyengar Yoga instruction.
We opened in June of 2009 and have continued to grow each year.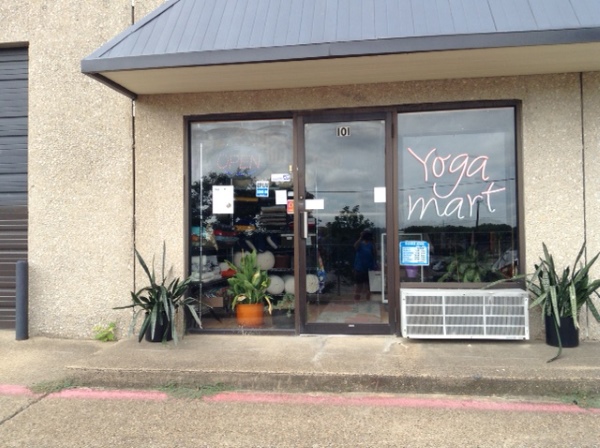 Yoga Mart USA Studio and Store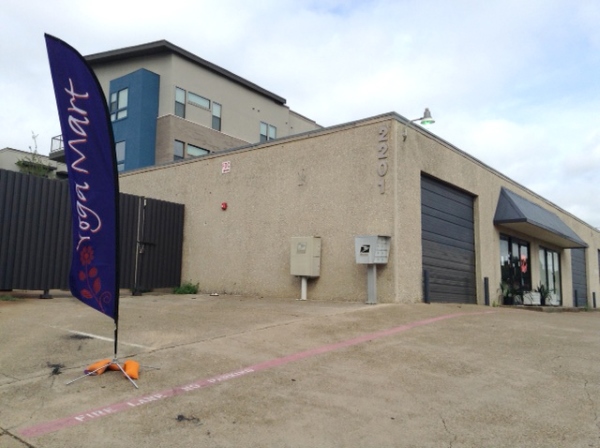 Street View - Yoga Mart - Apt Bldg behind it
Yoga Mart
  NEW ADDRESS: 2201 Tucker St; Suite 101
Dallas, TX  75214
(214) 238-2433
Look for the traffic light at the Gaston Ave & Tucker St intersection
We have a great Dallas Area Map on our Classes Page
Store Hours

Monday closed

Tuesday 1:30-5:00PM
Wednesday 1:30-5:30 PM
Thursday 12:00-5:30 PM
Friday 12:00-3:00 PM
Saturday 11:00 AM-3:00 PM
Sunday closed

*******

During inclement weather, if DISD closes the local schools
Yoga Mart will be closed and classes are cancelled.
Update August 2019:
Yoga Mart has proudly produced many items made from 100% cotton for over two decades. Although I have tried to source USA made items unfortunately some of the components are made in China. Muslin fabric, cotton webbing for the straps, sand bag handles, mat bag handles and other items are amongst this list.  The cost of these goods has doubled in the last several weeks. The bulk of this increase is the Federal Tariffs on goods from China. Yoga Mart has always tried to keep the mark up of items low in order to maintain a reasonable retail price.  The current increase in cost of components will be need passed on to the customer.
The bolster filling is Texas cotton so it is not effected, however the fabric for the covers and drawstrings are subject to the Tariffs.
I am sorry to have to increase many of the prices.
Namaste, 
Marj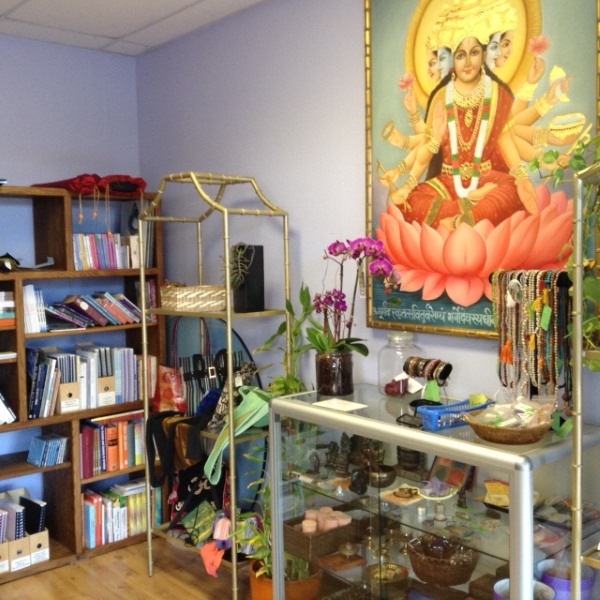 Store Retail Area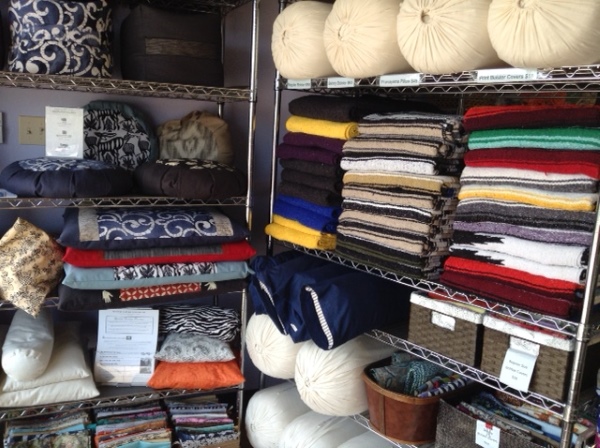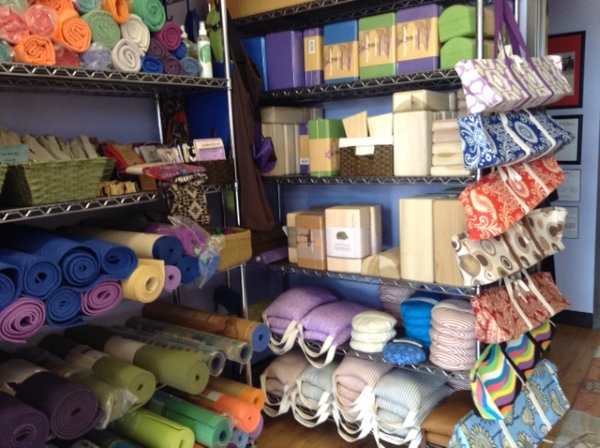 ---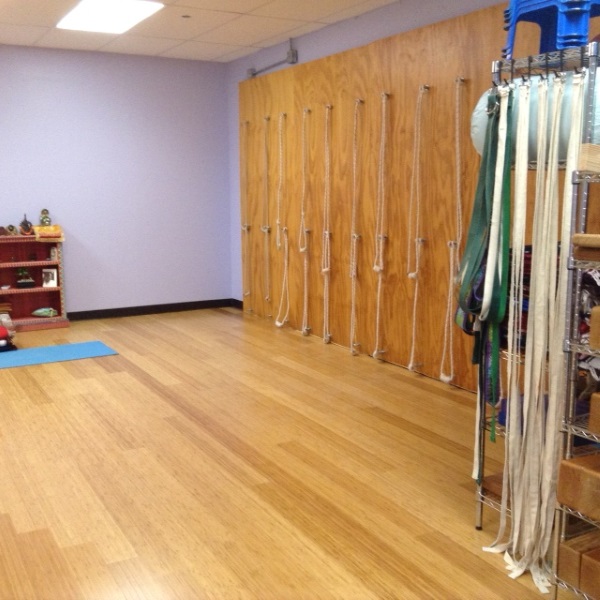 New Classroom Rope Wall
Warm Bamboo Flooring
---
Some B-E-A-U-T-I-F-U-L Blanket colors are in!!!!

---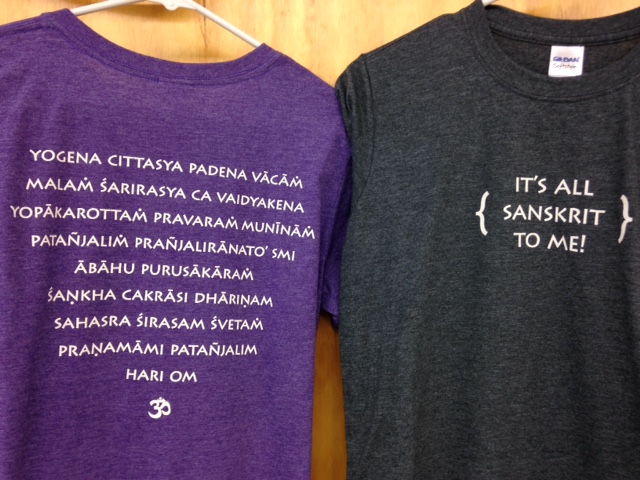 A Great Gift Idea for any occasion - Pick up at Store or order on our Secure Shopping Cart
While Supplies Last

| | |
| --- | --- |
| Large Back Bender with Bolster | Backbend with Block, Backless Chair & Bolster |
---
Gift Certificates in any denomination are available at our store or online at our Shopping Cart.
Great gift ideas for your students, teacher or practice partner!
We have in stock bolsters, Pranayama pillows, mats, belts, blocks, sandbags, eyebags -  everything for your yoga practice.
Men's and Women's clothing by such manufacturers as Swedeshi, prAna, Hugger Mugger and others.
Also available in store is a large selection of books on yoga philosophy, yoga therapy, many Yoga Sutra translations, anatomy and much more. Many book titles are direct from India and not readily available in the USA.
Here is just a sampling of what we have available within our studio or on our secure online Shopping Cart

---
And you thought it was tough watching grass grow?!?!
Imagine how Sugar feels watching all that sand dry before going into the handmade sandbags!!!
Return Policy:
Retail orders:
Faulty or damaged goods refunded 
Full refund of unused goods within 14 days of purchase Or January 15th for Holiday presents
10% restock on unused goods over 15 days from purchase
Used goods returned at discretion of owner considering how used it is.
No returns on used goods
Wholesale orders:
20% restock fee on unused goods within 30 days of delivery
No Returns on custom orders
---
Clothing for yoga and Pilates - for both women and men - is available in a wide variety of sizes and styles.
And, these clothes move easily from studio to street without a second thought!
---
Don't forget to Foursquare yourself when here!

---
Store Hours

Tuesday 1:30 pm - 5:00 pm ~ Wednesday 1:30 pm - 5:30 pm ~ Thursday 12:00 pm - 5:30 pm ~

Friday 12:00 pm - 3:00 pm ~ Saturday 11:00 am - 3:00 pm

Sunday & Monday Closed
---
Yoga Mart USA
› Our Store and Studio