Yoga Mart USA

---
Wintery Weather Predicted in North Texas February 14-20, 2021

Due to the icy weather Yoga Mart may be closed and in person classes cancelled. Marj and Cheryl will conduct the Zoom classes from their homes. 
Online orders will be shipped on the earliest possible date once the roads are safe for travel.
February 20 update
Arriving at Yoga Mart for the first time in a week, I found minor water damage after the very cold 
conditions
. The retail store will be open usual hours beginning 2/23. Some classes may still be Zoom only. Please sign on to classes your using Wellness Living account. That 
system
 will be updated daily.
Message on 1/19/2021:
Four years ago today, Yoga Mart opened at the current location. Thank you to everyone across the world for thier support purchasing my handmade items and those handmade by other Dallas artisans. Stephanie Safran with Second Nature Pullow Co. keeps YogaMart stocked with buckwheat meditation and sleeping pillows. I am always gratified when the online orders roll in.
Also thank you to all that have attended classes at YogaMart. The transition to Zoom classes over the last year started out rocky but we have seemed to settled in to a new rhythm of practice.
Of course my love and gratitude to Cheryl Johnson and George Purvis for bringing thier classes to YogaMart cannot be expressed in words. Their presence raises the atmosphere with community and joy.
The struggle of a small business owner continues, however I hope that YogaMart will continue to encourage yoga practioners, of any style of yoga, to keep your practice alive.
Shanti and Namaste, Marj
COVID-19 Policies and Procedures 
at Yoga Mart 
Yoga Mart would like to provide a safe environment for everyone. The door handles/knobs are wiped frequently The classroom floor is mopped every other day The classroom props are sanitized with UV light after each use. The bathroom is cleaned and sanitized a couple times a day 
The merchandise and retail area have been sanitized with UV Light 
If you are experiencing any of the following, turn around and go home: 
Fever or chills 
Cough 
Shortness of breath or difficulty breathing 
Fatigue 
Muscle or body aches 
Headache 
New loss of taste or smell 
Sore throat 
Congestion or runny nose 
Nausea or vomiting 
Diarrhea 
To attend class in studio: 
Pre-registration for class is required, only 3 students are allowed 
Body Temperature will be taken before admittance to classroom 
Bring your own mat 
Wash or Sanitize hands before entering the classroom 
Covering on mouth and nose must be worn throughout class 
A towel must be placed on any prop if the face or head will touch that prop. These towels are provided, washed and sanitized between uses. 
To shop in the store: 
One shopper allowed in store at a time 
Covering on mouth and nose must be worn. 
Hands must be sanitized before touching any merchandise
---
Please take our Survey above - Thanks, Marj
Retail Store and Manufacturing Location:
2201 Tucker St. Suite 101, Dallas TX 75214.
It is across from Arboretum Village, up the hill behind Andrea's Restaurant. The new space has a larger classroom with a bamboo floor.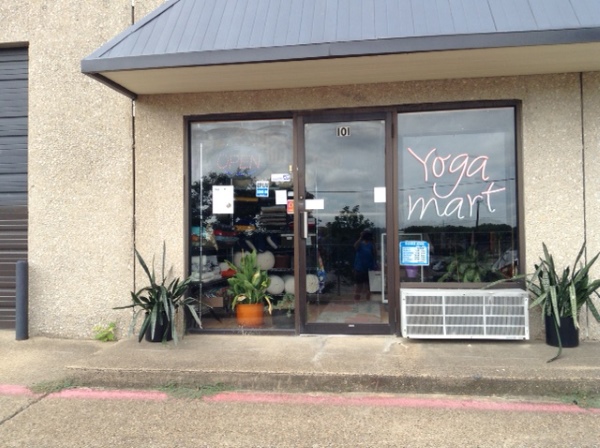 New Yoga Mart USA Studio Storefront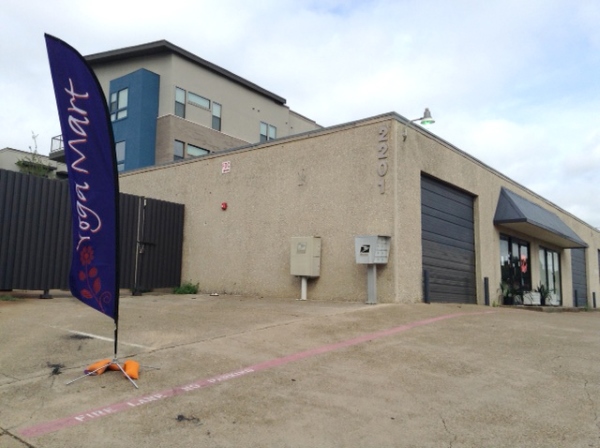 Street View of Yoga Mart Bldg - Apt Bldg Behind it
Zoom online classes and students in studio.
Adding students to the classroom began 5/20/2020.
Only 3 students in the classroom
Bring your own mat
Must wear a face mask
6' distancing will be observed
No physical adjustments
Wash your hands, get some sunshine, eat good food, sleep well.
#StrongDailyHomePractice
* * * * * * * *
*Bolsters, Pranayama pillows, Sandbags
*Straps 6', 8', 12'
*Eye bags
*Mat bags and other carriers
*Wood props - block, slant plank, stump, back bender
All lovingly and locally made in Dallas, Texas.  Yoga Mart is the only retailer for Second Nature Pillow Co. All Second Nature products are also made in Dallas and they include, Zafu, mediation cubes, buckwheat sleeping pillows and more.  
YogaMartUSA has become an excellent resource for many hard-to-find books published in India.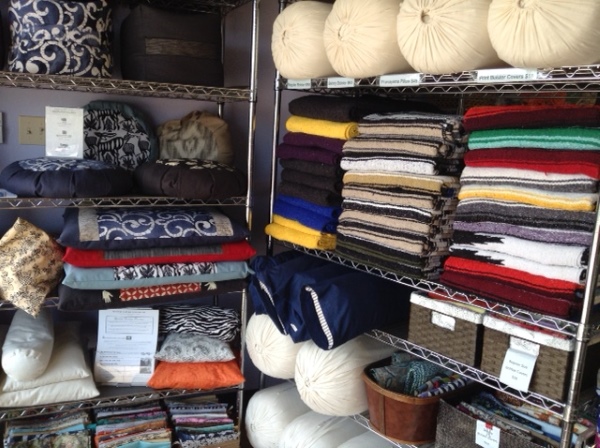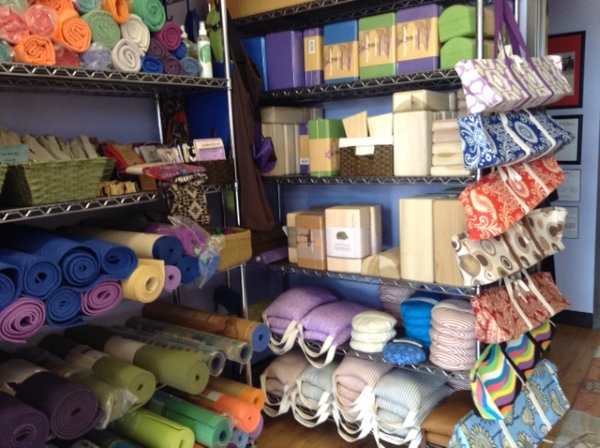 Sampling of various bolsters, mats, mat bags, blankets, t-shirts, etc. available at the Yoga Mart USA Store

---
Inside New Studio

---
Marj is shown in a Restorative Pose, utilizing various Accessories & Props that she either designs and manufactures or supplies through her Shopping Cart.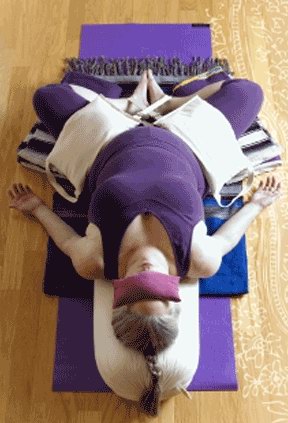 As our name implies, we are a quality designer and producer of Yoga accessories. However, Marj Rash dedicates many hours teaching Iyengar Yoga throughout the Dallas area. Many students love her style of working with them to achieve a greater Yoga experience so Marj travels to several different locations to help students enjoy her years of teaching experience.
In honor of the teaching of Yogacharya BKS Iyengar, 10% of profit on sales through this website will be donated to the Bellur Project.
Yoga Mart USA in Dallas Texas,  provides certified Iyengar classes as well as Yoga Props, Accessories, Supplies and Apparel
For information about our classes and locations, please take a look at our Classes page.
---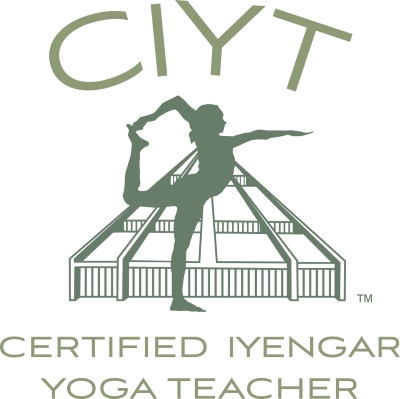 Yoga Mart
2201 Tucker St, Suite 101 
Dallas, TX  75214
(214) 238-2433
We have a great Dallas Area Map on our Classes Page
Come by and browse the selection.
Helpful Yoga Articles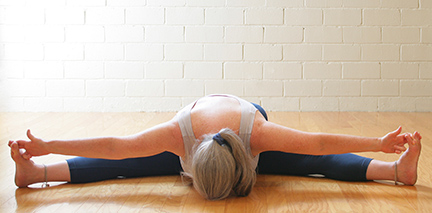 Yoga: Fight stress and find serenity. By Mayo Clinic
Your mobile phone is ringing, your boss wants to talk to you and your partner wants to know what's for dinner. Stress and anxiety are everywhere. If they're getting the best of you, you might want to hit the mat and give yoga a try.
Yoga is a mind-body practice that combines physical poses, controlled breathing, and meditation or relaxation. Yoga may help reduce stress, lower blood pressure and lower your heart rate. And almost anyone...Read more....
---
How To Get Back Into Your Wellness Routine After The Holidays. By Raj Barker ~ BeWell.com
As we officially wrap up the festivities of the holiday season, it's time to turn our attention to hitting the reset button and starting again. It's necessary to drop the ball sometimes, to throw caution to the wind, and commit to really enjoying yourself in the process. But it's also important to connect back with self discipline and reality and take the time to re-establish routine and self-care. Below is a step-by-step guide curated to help you get back on track. Start with... Read more....

---
The Benefits of Yoga: A Scientific Approach. By Yvonne Perry 
I did a search on the internet and one of the first things that popped up was an article outlining the 38 benefits of yoga such as reduced diabetes, cancer, osteoarthritis, stress, anxiety, improved strength, and flexibility. It seems if you can think of it, then yoga can either prevent it—or treat it.
I am a yoga teacher and a health care worker and there is nothing I want more than to prevent or cure a disease with yoga. My science brain, however, will not accept these claims without research to back it up. I have set out to find the research behind these... Read more....
---
Don't forget to Foursquare yourself when here!

---
Store Hours
Closed Sunday & Monday
Tuesday Noon-5:30PM
Wednesday 1:30-5:30PM
Thursday Noon-5:30PM
Friday 11:00-2:00PM
Saturday 11:00-2:00PM
Or by appointment: 214-238-2433
---